Look at this graph from macrumors!  EXPONENTIAL!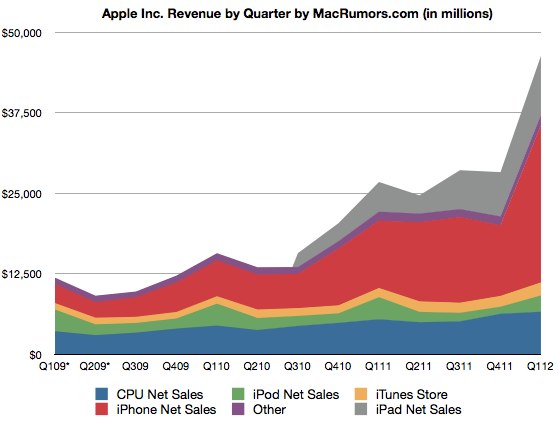 Bullets from Matt Richman's "takeaways" from Apple's (Q4) 2011 earnings.
With a record $13.06 billion in profits, it was Apple's best quarter ever — by far.
Apple has sold more iOS devices than Android devices combined.
And of course, there's the amazing fact that Apple's Profit alone ($13 billion) was great than Google's total revenue ($10.6).  (via fmanjoo)
Here's just one more kicker... HP PC sales at 15.123m where iPad sales topped out at 15.43m (via gerrymcgarry)
As always, the haters will always hate, but the numbers speak for themselves.  Congrats to the team and here's to an amazing 2012!  Can't wait for the iPad 3 and the iPhone 5 and my new Macbook Pro!  It's going to be a costly 2012 all around!